Pruning young trees at the time of planting helps develop structurally sound, large shade trees. When pruned correctly, they will have less problems as they age; giving them the best chance to live long healthy lives. Structural pruning should be repeated every few years after planting, up to approximately 25 years, to give your tree the best chance to be a future state champion tree. The following provides an overview on structural pruning.
The first goal when doing structural pruning is to establish a central leader. This can be done by pruning back all but one of the upward growing branches at the top center of the tree. Staking may be needed to help straighten the new central leader.
The next goal is to prune any branches that interfere with other parts of the tree. In this stage, horizontal limbs that are too close together are often pruned back and branches best for long term growth are identified. To minimize wounding the trunk, it is often better to nip back sections of branches rather than removing the entire branch back to the trunk. However, if a limb needs to be removed, removing it when it is small minimizes the wound size.
And finally, remember not to remove more than 20% of the foliage at any one pruning interval.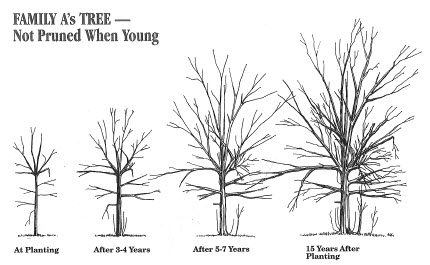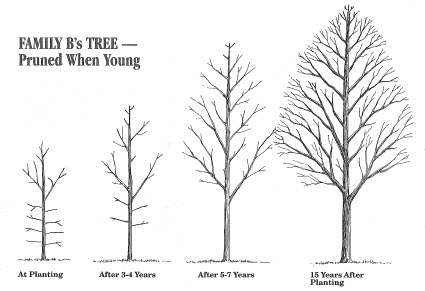 Diagrams from Tree City USA Pruning Bulleting