The Emerald Ash Borer pest is now present in all the counties of our work area in Ohio and we are seeing its effects much sooner than expected.   It is time to take action.   This season exposed a significant number of dead or dying Ash trees in the area.   We predict many will not leaf out or will have significant dieback in 2012 and 2013 as well.
If you have a healthy Ash tree in your landscape, on a city or village green space near your home or in a woods screening and it is important to your landscape, we strongly recommend that it be treated before the borer damage is evident. Un-treated trees will likely be infested in the next few years, with a 3-5 year life expectancy after infestation. 
The photos to the right show the results of an untreated Ash tree-lined street in Toledo, OH.  Property values are greatly affected when large street trees such as these are removed.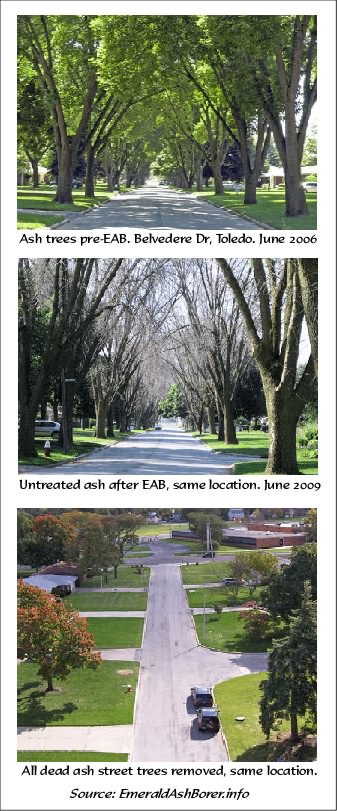 The timing of treatment is critical to its success.  If you have a tree that may need to be treated, we strongly recommend meeting with Mark Webber, an ISA Certified Arborist, or another qualified person (can find one at www.treesaregood.org ) as soon as possible, so the window of opportunity to deal with this pest is not missed. The research indicates that do-it-yourself applications are effective up to 6-8" of DBH (Diameter Breast Height), after that please consult and work with an ISA Certified Arborist.
Not sure if your tree is an Ash tree?  Review this Ash Tree Identification Guide.
Dead or dying Ash trees should be removed in a timely manner. The longer they are left standing, the more hazardous they become, and hazardous trees are typically more expensive to remove.
Please visit the Ohio Dept. of Agriculture's EAB Program page for detailed information and updates on the EAB.
Can I Transport Firewood?  According to a press release from Ohio Department of Agriculture (9/8/10), all 88 counties in Ohio are now quarantined.  All the northern Kentucky counties are quarantined as well.  So although transport of Ash wood is strongly discouraged, it is permissible to move wood between any county in Ohio, and any county in northern KY.  It is NOT, however, permitted to move Ash wood across any state line.  Read the full EAB press release (PDF format).